Accused of academic misconduct and wondering how best to defend yourself?
NEW: download our free Student's Guide to Academic Misconduct Allegations
With online assessments due to COVID-19, we have seen a sharp rise in allegations of academic misconduct. These can be terrifying and, if found proved, life-changing for students.
A finding of guilt can result in a lower degree, suspension or expulsion, and will remain in the student's record potentially affecting employment prospects.
Yet, this is precisely the time when a cool head is needed to increase the prospects of a good outcome, whether it's a finding of 'not guilty' or a sanction that does not risk affecting the student's degree or future job prospects.
We help students and their families deal with allegations of academic misconduct, from plagiarism to collusion to paying someone to write an essay.
We are experts in cheating cases and, where appropriate, we use a range of other experts, such as IT and linguistics specialists, to help build the strongest possible case for the student.
All our advisers are qualified, practising barristers with experience and expertise in defending academic misconduct cases.
We know that a finding of academic misconduct can be devastating to you and your family and so we work tirelessly, 7 days a week, to help you achieve a compelling defence.
We did this for Noor, who was accused by her university of buying an essay. She wrote this about her experience:
"In my case, the University's style was bullying and belligerent and alone I would have been lost in an overwhelming bureaucracy. Dr Sokol cut through the waffle to the heart of the case against me with a tactical intelligence that only someone of his nature and calibre possesses. He saw things that I, and even the University, did not, getting to the point and ultimately refuting the case against me. He won the case for me on appeal, as I deluded myself into believing that I could deal with it myself, leading up to that final chance. If you are involved in any academic misconduct case with your university, however trivial you believe it to be, do not hesitate to engage Alpha Academic Appeals, who will bring experience, competence and diligence to your case."
We are trusted by embassies, academics and student unions, and we train university staff and student advisers on how to conduct academic misconduct cases. The Brunel University Student Union, for example, states on its official website: "we recommend the barristers at Alpha Academic Appeals who specialise in academic misconduct cases."
Contact us for a free, confidential enquiry. Just call us directly on 0800 368 9230 or complete the online enquiry here to discuss your case.
For those on a shoestring budget, we have created a unique online video tutorial on how to deal with allegations of academic misconduct. It is the most affordable way to get professional help. Click here to learn more about the tutorial.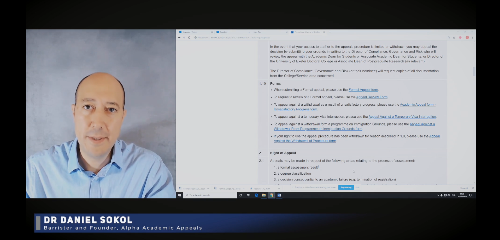 10 Reasons to Choose Alpha Academic Appeals
Trusted by student unions, embassies, lawyers, and academics. We received over 2,500 queries in the last 12 months.
Same day appointments 7 days a week, subject to availability
Reduce stress by allowing our team of experts to do all the hard work
Barrister led. Benefit from the advice of our 15 barristers
Clear, honest advice on improving your chances of a successful outcome
Obtain a sample written statement that you can use as a template
Obtain a quicker resolution to your problem
Gain insights from our collective experience of thousands of university appeals and complaints (see Reviews)
Pay a fixed price. No unpredictable hourly rates
Our offices are open every day, with extended hours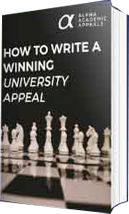 Download Our Free Guide to Writing a Winning University Appeal Now